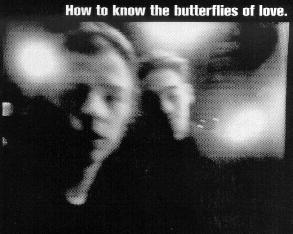 How to know the butterflies of love.
mt. everest / serious / horrible / wild / floating / love may be possible / rob a bank / shame / amethyst / assassins / swollen eyes / leaving when i'm done drinking
CD - on SECRET 7 RECORDS
LP - on Fortuna Pop!
After a complex series of events, Secret 7 Records is proud to announce the release of this truly great record. Several years in the making and several more before seeing the light of day, "How to know the butterflies of love." is a verifiable smash. New Haven, CT residents Daniel and Jeffrey Greene (no relation) sing a dozen sad but hopeful songs in a densely layered wash of alcohol, guitars, organs, and impeccable background vocals.Produced by rock and roll legends Mike Arafeh (Coffeehouse Records & Studio) and Mark Mulcahy (Miracle Legion, Polaris), these recordings document one of the great moments in the studied history of this soon to be legendary group. Released in the U.K. this past fall to a tidal wave of rave reviews, sold out pressings, and subsequent John Peel BBC sessions, "How to know the butterflies of love." has proven to be a record worthy of your attention.
Daniel and Jeffrey, now accompanied by Scott Amore and Peter Whitney (both ex-Names for Pebbles) and Neil O'Brien (ex-The Van Pelt) plan to release a series of similarly incredible records in the coming year.